When babies are growing up, they have too much energy and that is the reason why they are always moving around. To make sure that all of their energy is utilized in the right way, you need to get them a scooter so that they can have fun, enjoy their time and get tired after all the riding. Radio Flyer Scooter is a popular scooter brand and here we will be discussing the top 2 scooters that you can get for your baby.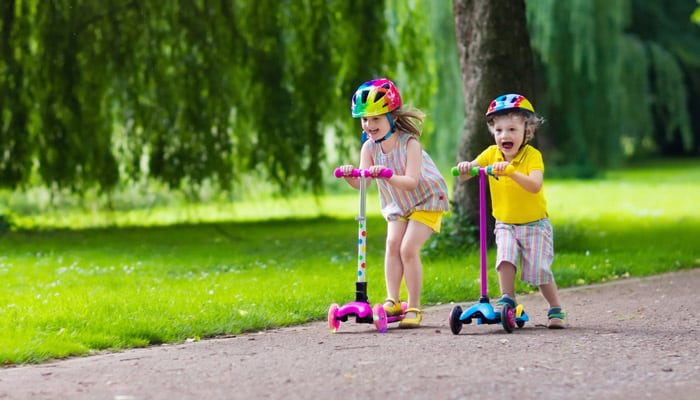 For your help, we have selected the top three radio flyer scooters so that you don't have to do much research.  Before you choose a product, it is important that you get complete detail about the products and choose the one that matches your needs and price range. After the baby has passed the stage of the riding in a stroller and then baby walkers, its time to bring in a scooter.
About Radio Flyer 
Since 1917, radio flyer scooters have been spreading smiles and making memories of kids and their parents in different ways. Thousands of kids have been getting a better childhood with these scooters.
This company is based in Chicago and the quality of the products they make is just on point to spread happiness and make memories.
Best Radio Flyer Scooters For Your Kids
1. Radio Flyer '
My 1st Scooter
' 
This three-wheel scooter is a great option as the first bike of a kid. My 1st Scooter will surely bring joy and me and make your kid enjoy scooting. To give proper support to the kid, it comes with a wide base so that there is much space for him to stand on without falling down. What we love about it is that this scooter is great for kids as young as two years old. This way the young toddler can have a safe ride.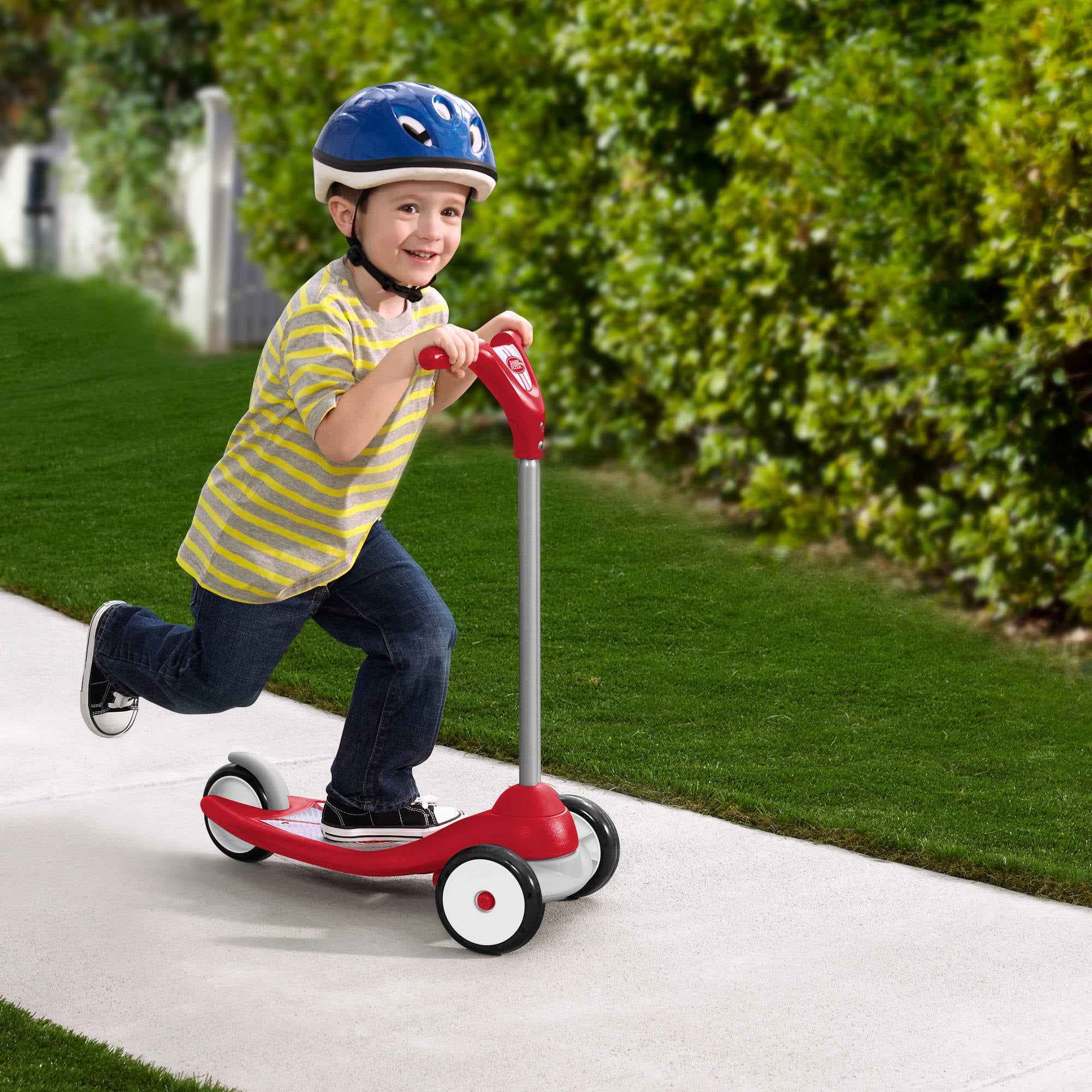 There are three wheels so that the bike doesn't move around and be stable for the baby to stand on. The ergonomically designed grip of the handles allows you to hold it tightly and so that the hands don't slip off. This scooter can bear up to 50 pounds of weight so that means there is a lot of margins for the kid to ride on.
There are two colors available in this design that are red and pink so that not only girls but also boys can enjoy it. This scooter will immediately teach your kid to balance their bodies while having rocking fun. A bike can be essential not just to keep your kid safe but also busy so their energy is utilized in the right direction. 
Pros
It's lightweight so the baby can carry it well

Wide Foot deck to easily stand with both legs up

3 wheels for extra support 

Well balanced body
Cons
Build quality doesn't look expensive 
2. Radio Flyer
Scoot-About
Bike
Among all of the radio flyer scooters, this scoot about scooters has a shiny surface and looks more high quality and expensive. The chrome handles give it more of an edge and your kid will totally love it. The steel frame of this scooter is strong and made for a little older kids so that they can enjoy their rides on a strong bike.
The design of this bike is so durable that your kid can easily ride it for ages and pass it on to the younger siblings. You need to make sure that your kid is safe while scooting. This radio flyer scooter comes with a bumper on the front so if there is a wall or any other obstacle, your kids remain safe.

This feature is important for all the two-wheel and three-wheel radio flyer scooters. It also comes with a little bell on the handlebar that the kids can ring while pushing the scooter to get a little more enjoyable. This can be really fun for the kids to enjoy because sounds make kids happy.
Pros
Shiny build quality 

Tiny ringing bell to make the ride fun for your baby

Safety bumper to avoid obstacles

Durable quality will last for years
Cons
The body of this scooter can be heavy for the baby
Final Verdict
After riding on the bike, the baby will get tired and sound sleep on his comfortable mattress. Parents are responsible for the safety of their toddlers and that is the reason why they get complete details and choose the best products. You can select a bike that suits your kid and his playing environment. 
You can also switch to a two-wheel bike if the kid is a little grown-up and already knows how to ride a bike. These bikes are designed to keep the little kids in mind and how they can be easy and safe for riding. A normal scooter will not be safe for babies but your toddler can easily ride and enjoy his 3 wheel radio flyer scooter.