Parents have to take care of their babies in every single way just to keep them protected and safe. They don't feel gross or bad even when dealing with not the best things. If the baby needs his diaper changed, parents will not hesitate, any spit up will be cleaned without any problem. But, the most common body fluid released all the time is snot, and to get rid of that, one needs a baby nasal aspirator. 
When the babies have any allergy or get sick due to teething, they always have a runny nose, and wiping it off every now and then can be exhausting and hard to do. Your baby will not be comfortable in this situation so to make them happy and easy, you need to clear the nasal passage so that they can easily breathe and don't face any difficulty. For that, you will need the best nasal aspirator for the baby. Along with other important products for babies like nursing pillows and baby gates, this is also a must-have.  
There are tons of options in the market so how would you know which one is the best baby nasal aspirator? It can be hard to find the best one but for your assistance, we have selected the top ones. 
What is a Nasal Aspirator and What Does it Do?
Before we get into the details of the best baby nasal aspirator, you need to know what it is and how it's used. A baby nasal aspirator is a device used to clean the nasal passage of your baby by sucking away the mucus. This is a very helpful device when your baby has a congested chest and finds it hard to breathe. 
Just like adults blow their nose to get rid of all the mucus, babies can't do that so the aspirator will help them. It is important to ease your baby's nasal congestion when their nose is stuffed. 
OCCObaby
Baby Nasal Aspirator
This is the baby nasal aspirator that we kept on the top of our list because of the fancy features and great performance. This is not just a regular aspirator as it comes with 3 different sized tips to help your baby breathe. The size of this nasal aspirator is so compact that it can be carried anywhere. 
The 3 different sized tips include a power suction tip that will remove heavy mucus, a special gentle tip for those babies who are just born and need to be handled with a lot of care and a third tip is a long reach tip that will help you for places that are hard to reach. The tips are created with medical-grade silicone so you don't need to worry about the safety of your baby or any harmful material in the making of these tips. 
They can be reused after a wash so you won't have to worry about any messy filters or replacement tips for every new try. If you don't have batteries, you can use the oral suction tool included in the package. Just make sure to keep the baby wipes by your side while using it. 
Pros
3 types of tips available for versatile and durable usage. 

Compact and slim design to easily fit in your purse.

The dual function allows it to be run with batteries or just with an oral suction tool.
Cons
If we compare it to other electric aspirators, the suction power is not very strong. 
BoogieBulb
Cleanable Baby Nasal Aspirator
This is the tried and tested type of the classic baby nasal aspirator but BoogieBulb has somehow improved the quality and working. After use, you can easily clean it by opening the bulb and sanitize it afterward. There are different sizes available, the latex used in the making is medical grade so we get good quality. 
It is a great choice for moms who are on the go and need something to carry with them all the time. It has a waterproof base so you can easily fit it into your purse or diaper bag. This aspirator will last you for years so if you are a new mom. Even if you have more than one baby. We think it will be a great investment to get a good quality aspirator. It will stay with you for a long time. You can easily use it when your little one is in its baby high chair.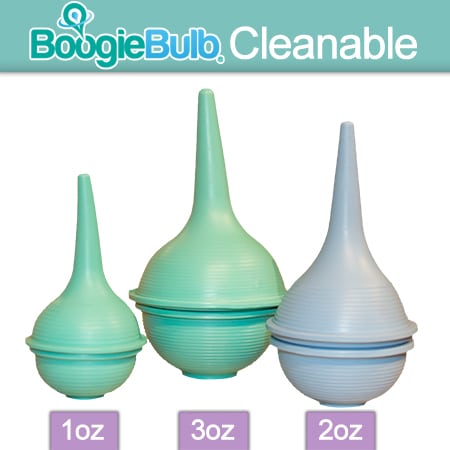 Pros
You can open the bulb to properly clean, dry, and sanitize it. 

It is even Dishwasher safe.

You don't need any replacement filters. 

The design of this bulb keeps it safe from bacteria or mold.

The material is hospital-grade latex.
Cons
You can't control how much suction you need.