The Honeywell HCM-350 Germ-Free Cool Mist Humidifier is something you need to install in the baby's nursery and room to improve the air circulation, creating a comfortable zone. Are you tired of chapped lips, dry skin, and sinuses? They may look like unnecessary issues but in the long run, can create annoyance. The humidifiers are a very good option to fill your air necessary humidity by raising the moisture level by 30 to 50 percent. Medically, a lack of mucus may make you prone to catching illnesses very easily so having the required humidity in the air is very important for your health.
Breathing in overly dry air may put a burden on your lungs as well. So, let's have a look at a humidifier that can fill your air with enough moisture for your easy breathing. 
HCM-350 Germ-Free Cool Mist Humidifier
The humidifier is made by Honeywell company which is a well-known supplier for humidifiers, air filters, and heaters that are bought for home use. This company is also included in the list of fortune 500 companies so this is one reason to trust the products from this company because of standing in the market.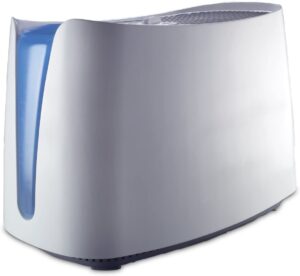 Features
Easy to use and noise
This humidifier is easy to use. It keeps the air moisture balanced, spreads the humidity evenly in the atmosphere of the room, and does not produce any annoying sound except a soothing noise of a fan when working.

It comes with three-speed settings to variate according to the requirement.
Easy to clean
The HCM-350 Germ-Free Cool Mist Humidifier is extremely easy to clean. You can put its part in the machine to wash it. 

The water tank has enough capacity for one day and it can be cleaned in the dishwasher. 
Working efficiency
This humidifier works with invisible moisture spreading in your room however when you take your hand near the unit you can feel dampness on your hand.

This product is a great solution for the baby's nursery and the room where ventilation is poor.  It will add much-needed moisture to improve the condition of the air, making it comfortable for the baby. Therefore, it will prevent the buildup of mucus in the baby's nostril. 

If your baby is really sensitive to extreme cold and hot weather, you must install a Honeywell hcm-350 air humidifier in the room to create a comfortable and airy environment for the baby. It will prevent the air from getting dry and relieve your baby's breathing issues. Moreover, it will also keep his or her skin soft. 
Area covered
This humidifier is good to use in an area of approximately four hundred square feet, so it is recommended to be used in your bedrooms and living rooms.

Being an

evaporative humidifier

, this will not over humidify the room like an ultrasonic humidifier by the spread of white mineral dust.
Water tank
The size of the water tank is enough for one day use. The tank has an integrated handle designed along with the tank for easy gripping, pulling, and cleaning. 

You can easily clean the water reservoir by putting your hand inside.
Not Noisy
Honeywell hcm-350 air humidifier is not very noisy, it is really quiet. So it works nicely and efficiently in the room. You only need one gallon of the tank to make it through 24 hours or so, making this humidifier an ultimate money saver. 
If you are planning to travel around the city with your baby, consider buying a Graco portable crib for the trip to make a nice sleeping bed on the go.
No airborne Allergies
Honeywell hcm-350 humidifier kills 99% germs, viruses, and bacteria in the room, ensuring good air conditioning for proper inhalation for babies. Therefore, it is best suited for medium-sized rooms and more so for the baby nurseries as well.  In short, airborne allergens would never affect the baby's nasal passage or health.
Your baby's nursery should be well-conditioned and nicely ventilated. But the fact is that you may have to keep the windows closed during the winter season. In this case, you just need to turn the Honeywell Hcm-250 humidifier on to kill the bacterias as most health problems are caused by airborne pathogens.  Moreover, it features an advanced UV technology that kills all the bacteria in water. 
Evaporative Technology:
Honeywell hcm-350 air humidifier features the latest evaporative technology to flow off the moisture of a wicking filter, it takes less time in changing the condition of the air within the room.  The product never releases more humidity into the air that it can hold to keep the atmosphere safe and cool. However, you can still add more humidity to the air if you desire. 
Nasal congestion:
Honeywell increases the humidity level in your home by up to 60% so your baby can breathe easily, improving his breathing for his overall well-being.  It reduces his crying time and keeps him from nasal congestion and any sort of breathing disorder during his sleep.
Since the air is naturally very dry in the winter, it gets worse when the heating unit robs the moisture of the air furthermore, making babies susceptible to sickness, breathing issues, cold, flu, and aggravated skin problems like rashes, patches, and redness. So, it is important that you try to add moisture to lessen the dryness of the air by using a humidifier, and without double Honeywell works the best.
You may however need to keep a NoseFrida nasal aspirator close by always during the winter season. During those cold nights, your baby may have serious nasal congestion due to health issues, general weather conditions, and atmospheric elements. 
Germs killing operation
The company claims that the

humidifier

is embedded with Uv technology that can kill 99.99% of bacteria, fungi, and mold after it has been used for two hours. However, for many, this claim might be an easily doubtable one.
What is Congestion?
Almost every 1 of 10 babies go through nasal congestion at one point in their life. Baby congestion is a relatively harmless condition, it can sometimes cause a bit of discomfort to the babies, causing the nasal mucus build-up to interrupt the normal breathing pattern. 
Most babies may experience congestion in the nasal passageways that's why whenever we talk about congestion we always have to look through the nostrils first. Therefore, it is also called nasal congestion, but it may feel more like congestion in the chest due to the sounds coming out of the ribs area. The symptoms of nasal congestion differ depending on what causes it in the first place.
Symptoms of Nasal Congestion
Your baby may show different signs of nasal congestion. He may still breathe though but you will be able to hear the crackling sound out of your chest. It could be another sign of him catching a cold.  Here are some symptoms of nasal congestion in babies.
Mucus build-up shows inside both nostrils upon check-up

Increased crying time

The sound coming out of the baby's chest

Cough and runny nose

Irregular breathing pattern 

Baby breathing with mouth
Treatment
The best thing you can do to treat this condition is just to install a nice humidifier in the nursery because doing so would condition the air quickly. It will make the room comfortable by adding more moisture to the room even during the winter when the air is really dry, causing breathing issues, not only in babies but also in adults. 
You can use a nasal aspirator to pull out the snot of our baby's nostrils. It's a bit cringe-worthy task but it's always worth it to remove the mucus using the tube.  Another way to sort out the issue is by using the nasal saline drops in the nostrils, it can relieve the discomfort that your baby might be feeling. If you feel like your baby is not getting any better even after you're doing everything that you possibly could, you need to consult a doctor. There might be another critical underlying cause as to why your baby has difficulty breathing in the room.
Final thoughts
Being an evaporative humidifier, it won't let your air have more than required moisture. Looking at its features tag it can be bought as a long term investment made for health and comfort. With Honeywell HCM-350 you have an option to buy a decent product for bigger areas at less price. in the market you may find cheaper options but in the long run their maintenance costs more money. 
It's natural for a baby to suffer from nasal congestion during the cold months of the year.  Always keep a nice nasal aspirator in the nursery drawer to use on the go.