The health benefits of cycling can't be emphasized much. Everyone knows how important it is for us to have a healthy body and a fresh mind as well. Well, if you have to travel with luggage or a baby, you might be wondering how to travel on a bicycle. To help you with that, we are here with a bike cargo trailer review that will help you find the best option to move around with your baby and luggage. 
These cargo trailers will not only help you move things around but will also make you put more effort into cycling and this way you can burn some more calories.
No matter if you want to go camping or just want to get your groceries on your bike, this bike cargo trailer will be your buddy. It can be a very convenient accessory for your bicycle or you can get a separate radio flyer scooter for your toddler. 
Save Energy and Go Green
The best part about bikes is that they are a means of transportation without any fuel or energy. They can be used easily and are really maneuverable. You really enjoy riding on a cycle as it doesn't need many skills to operate so the elderly, as well as kids, can use it.
This is the best way not to use any car or motorcycle and still carry the luggage around. They can also be attached to the adult tricycles. 
Moving is so much easier with these. Modern world has created so much equipment to ease our lives. The new ones are more concerned about the environment and that is the reason why fuel-free and environmentally friendly stuff is more appreciated.
Mother nature has given us so many gifts and it is our right to give something back to it. Try to do as much good as you can to save earth and energy.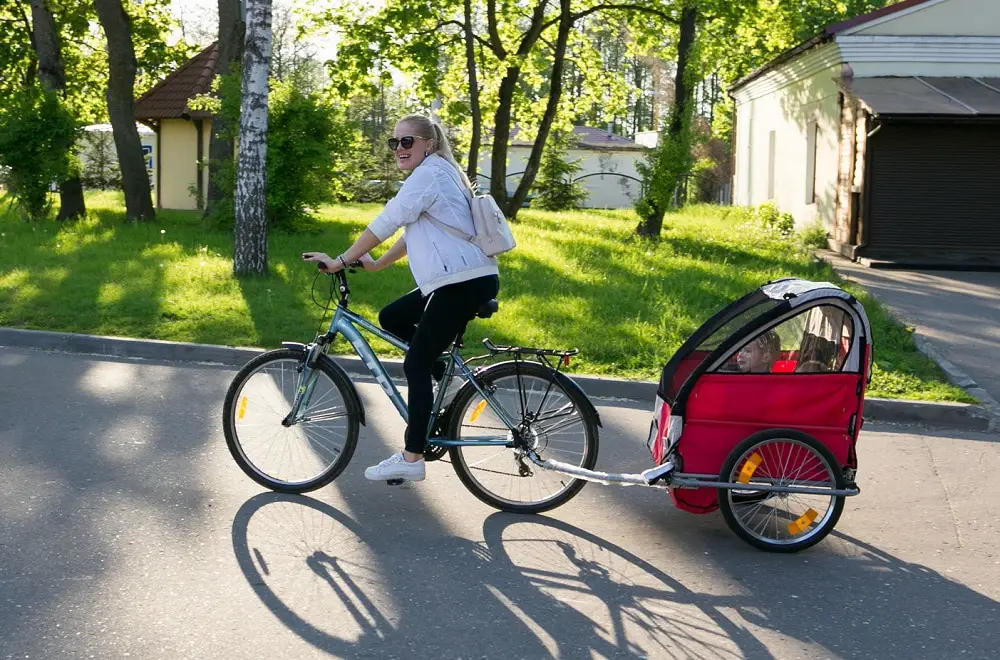 Which Bike Cargo Trailer to Get?
This bike cargo trailer review is going to help you find the best option. That way you will know what you need and if it will fulfill your requirements or not. Now the problem of storage with a bike is completely solved as you can just attach your bike cargo trailer to your cycle and enjoy it. Riding around your neighborhood with cargo is now really easy just made sure to remember all the safety tips. 
Schwinn
Day Tripper Cargo Bike Trailer for Toddlers
This bike cargo trailer is specially designed to accommodate babies and toddlers. Picking up the kids while riding a bike is not just difficult but also dangerous. To help you with that, this bike trailer cargo review will be worth your time. 
Easily Foldable 
Imagine going on a family trip and taking your kids in this bike trailer cargo, while you are enjoying your time, you can just fold the trailer and put it in the trunk of your car. The frame can be uniquely folded and turned into a newt small package. 
Smooth Tires to Ride Around
This bike trailer cargo review will make your family trips easier. There are 20 inches of tires attached to it that are filled with air. They will level out any bumps in the road and if you ride on the sidewalks, they will work the best. 
Pros
It can be easily folded and stored in a much smaller space.

The canopy around it provides protection for your kid from all sides.

The tires provide a really smooth and non-bumpy ride.
Cons
You will not find any indent for a helmet that results in an awkward sitting position for small kids. 
Instep
Bike Cargo Trailer
This cabin is so spacious that it can accommodate two children and it can carry a total weight of 80 pounds. There is an extra cargo space on the back that can pick up 12 more pounds. 
Make Your Trips Easier 
It will be great assistance on your family trip as it can easily fit in the trunk of your car after use. You will not have to exert much effort and worry about the bike. The toddler will enjoy a smooth ride as there are windows on the sides to enjoy the view as well. Its wheels have a quick release system so that you can quickly remove and store them. 
Pros
It provides a really smooth ride on uneven paths and bumpy sidewalks. 

It comes with a weather screen and mesh window for the kid to enjoy the outside weather while staying protected.

You can easily fold the frame into a smaller size. 

It has a universal coupler that can attach it to any kind of bike. 
Cons
There aren't any pads on the harness for protection.

This bike cargo trailer is only compatible with bikes with tires less than 26 inches.